Full 1
Education As An Aid To Life
Full 2
Learning Through Discovery
Celebrating 16 years of Dedication and Commitment to Nurturing and Developing Young Minds
The Montessori approach at Harvest Cherubs is designed to help children grow by letting them explore the world around them. Our prepared environments are carefully designed to encourage your child's innate zeal for learning, allowing them opportunities to choose from an array of purposeful activities to work on. Timings: 9:00 a.m. to 12:30 p.m.
The Cherubs Advantage
Why Choose Cherubs
Curriculum

Carefully planned curriculum following the Montessori philosophy

Safety

Safety for every child is our priority. Complete CCTV surveillance and vetted staff

Care

Utmost care is taken to ensure the child is comfortable in the learning environment.

Creativity

We aim to bring out individuality and creativity in all our children.

Infrastructure

Carefully planned and well-designed spaces to facilitate learning and play.

Trained Facilitators

Trusted, highly trained and hand-picked Educators. We believe that educators play a huge role in quality child care.
We offer a broad vision of education as an aid to life
Our Training

Structure for Montessori
Montessori / Playschool classrooms provide a prepared environment where children are free to respond to their natural drive to work and learn. Every environment has a mixed age group of children between the ages to 3 yrs to 5 years.
We are dedicated to the care and education
Our exclusive Montessori curriculum, combined with our own digital lesson planning tool,
enable teachers to create personalized learning experiences, appropriate to every age group.
Mont - 1
Our M1 children work with Practical life activities like stringing beads, puzzles, object to object matching and more.
Minimum Age criteria 3 years as of May 31st 2023
Mont - 2
Our M2 children work with Practical life activities like sorting different objects, wet and funnel pouring and more.
Minimum Age criteria 4 years as of May 31st 2023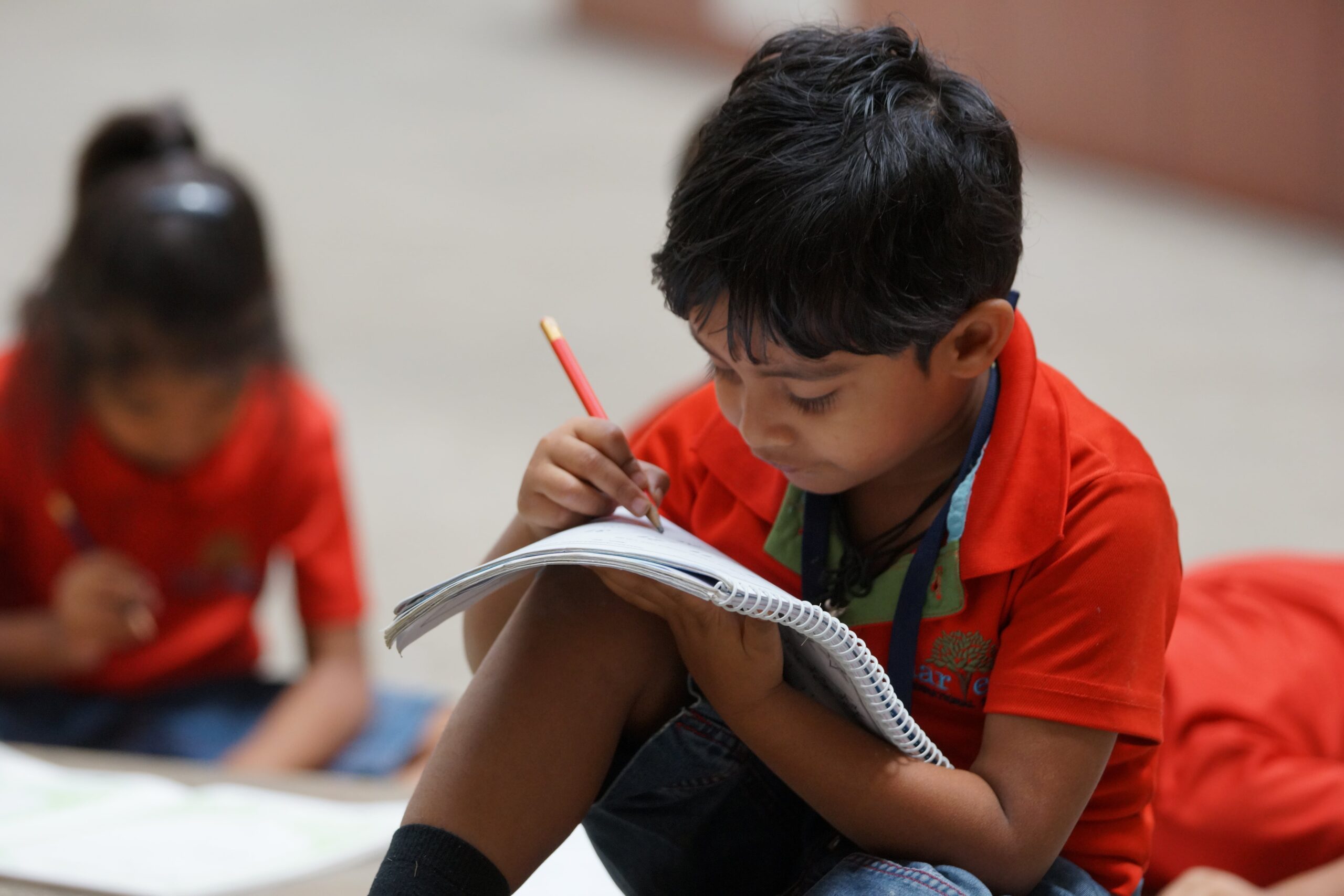 Mont - 3
Our M3 children enjoy working with chapati rolling, Hand washing activities and pounding material, and more.
Minimum Age criteria 4.6 years as of May 31st 2023
We provide Stimulating activities
Elements

of Learning. Committed to Excellence
Our Montessori curriculum is based on the research of the most renowned education experts. Designed by our expert team, it's created to support early childhood years, which will inspire the children to be bold explorers of today and joyful confident learners of tomorrow.
We believe that children learn best through play and our activities are inspired by child based learning. We have several different areas of play in each of our groups.
Read More
Curriculum
Elements
EPL
Exercises of Practical life help our children in developing motor coordination, care for the environment, care for oneself and grace and courtesy.
Sport
Children need to develop large motor and small motor skills and cardiovascular endurance. Fun and planned physical activities are introduced to the children to keep them moving and develop these skills.
Art
Kids will love designing and creating puppets and collages, constructing musical instruments and flower bouquets, and painting, gluing, and crafting to their hearts' content!
Excursions
Excursions form a vital part of a child's early education. They expose a child to a range of different experiences and enable them to gain a sense of the world in which they find themselves.
Outdoor
There is no better place to play than in the open. Our children benefit from a spacious outdoor play area which is safe and secure.
Math
Math concepts are presented to the child in a very concrete way so that they not only are able to count but skip count, square numbers and work with numbers in the thousands.
Language
Our curriculum promotes language development in children through various activities circle time, three-period lesson, storytelling, picture conversation, audiovisual activities and thematic activities. Both my kids went to Cherubs Montessori and My kids were always eager to go to school and excited about doing something new every day. Kind of attention that all teachers, including the Principal Mrs. Vijaya, give to each and every kid in class should be applauded. They are very friendly and courteous. I also have enjoyed doing activities with my kids on Parents day/Father's day in their school. Overall I am very happy that my kids went to the Best Montessori School in Bangalore - Cherubs Montessori.
Good foundation is very important  at the early years and fun  learning under a great atmosphere is important with good teachers , staff and facilities. TheBest Montessori School in Bangalore is Cherubs HSR, was the ideal place were all the three criteria was met for a  for a kid with homely  atmosphere. My kid was happy to go to school everyday.
Getting our child enrolled in a good Indian school was our biggest concern at time we were looking forward for good School in Sarjapura. After a lot of research, we decided to get our child enrolled to the Best Montessori School in Bangalore - Harvest Cherubs Montessori School. We are truly excited to mention that this school is a great choice for our child. We are happy to see the change and the way she has got adjusted to the new environment so quickly and easily.
Your email address will not be published. Required fields are marked *